Read about the history of QCT as put together by Revd Don Whebell. The document is based on an earlier article by Elizabeth Harrington. It has been adapted and updated by Glenine Hamlyn.
An informative booklet about the history of QCT was created as part of QCT's 20th anniversary celebrations (1 December 2011). Click here to download QCT, The First 20 Years - Formation to 2011.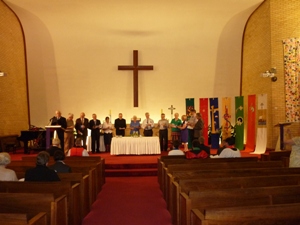 Participants representing the sixteen member churches of QCT gather around the altar in front of seven banners of the member churches. Photo by QCT.